Colored Pencil
Pet Portraits
I create colored pencil pet portraits using a mixed media approach that results in a very high level of detail, with brilliant colors and smooth, paint-like tones. I find colored pencil most practical for small portraits – 8″ x 10″ and smaller, but I can quote larger pet portrait commissions in this medium upon request.
Colored Pencil Pet Portrait
Colored Pencil Pet Portrait Pricing
| Size | Price | Add'l Pet / Bkgnd | Shipping |
| --- | --- | --- | --- |
| 2.5″ x 3.5″ | $69.00 | $39.00 | Free |
| 5.5″ x 7″ | $119.00 | $54.00 | Free |
| 8″ x 10″ Head shot | $149.00 | $69.00 | Free |
| 8″ x 10″ Full body | $165.00 | $79.00 | Free |
Contact Tim
Please use this form to send a no-obligation
inquiry. I will typically follow up with you the same business day. You may also email me directly at tim@tamzart.com, or call 417-298-6584.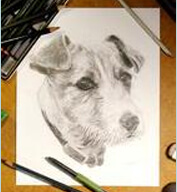 Mixed media approach to colored pencil pet portraits
For my colored pencil pet portraits, I generally use two different kinds of pencils: Water-soluble, also known as watercolor pencils, and ordinary wax-based colored pencils. These are similar to each other in appearance when dry, but watercolor pencils allow for some unique effects, such as washes, to be included in the work. My choice of water-soluble/conventional colored pencils depends partly on the subject depicted. Sometimes I will use both kinds in the same piece. I like to accentuate darks with india ink, and highlights with white acrylic paint.
Portrait surface and finishing
I use one of my favorite surfaces for colored pencil pet portraits, a thin polyester-based material called matte drafting film. I prime the surface with acrylic mediums to increase the "tooth" to a level that will facilitate layering, enable intense color saturation, even allow me to use pastel pencils in the background. Since the drafting film is plastic, it is by nature acid-free and will resist decay indefinitely.
When the portrait is complete, I mount it to a piece of heavy weight, acid-free paper using an archival-safe tape or spray adhesive, then trim the paper to the size of the portrait. I can also leave a small border of paper, if desired, to assist in framing. The finished product is then sprayed with fixative to guard the watercolor pencil against moisture and to prevent the wax-based pencil from oxidizing. The result is a pet portrait memory designed to last for many years to come.