Pastel Pet
Portraits
For large color pet portraits, pastel is my medium of choice. Despite the name, pastel can produce both vibrant and muted tones, allowing the artist to achieve many different effects. Clients on a deadline will appreciate the relatively quick turnaround time. Clients with a modest budget can benefit from the affordable pricing, while being assured that the quality of a pastel pet portrait compares well to any other medium.
Pastel Pet Portrait Pricing
| Size | Price | Add'l Pet / Bkgnd | Shipping |
| --- | --- | --- | --- |
| 5″ x 7″ Head shot | $79.00 | $39.00 | Free |
| 5″ x 7″ Full Body | $89.00 | $39.00 | Free |
| 12″ x 16″ Head shot | $214.00 | $99.00 | Free |
| 12″ x 16″ Full body | $249.00 | $119.00 | Free |
| 16″ x 20″ Head shot | $264.00 | $129.00 | Free |
| 16″ x 20″ Full body | $299.00 | $149.00 | Free |
Send inquiry
Please use this form to send a no-obligation inquiry. I will typically follow up with you the same business day. You may also email me directly at
tim@tamzart.com
, or call
417-298-6584.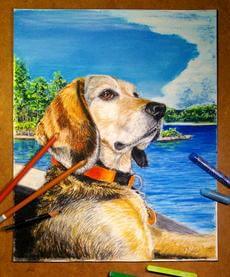 A quick medium with quality results
With pastel pet portraits there is no drying time – a mandatory interval that plagues paint not only when the project is done, but also between layers while the project is in progress. Additionally, the wide range of colors available in pastel eliminates the need for time-consuming mixing. All this not only decreases turnaround time, but also helps keep my rate for pastel portraits affordable.
Don't think, however, that pastel is an inferior medium simply because results can be achieved in less time. A pastel pet portrait can easily stand up to any oil portrait in a head-to-head comparison, both for visual appeal and longevity.
My pastel pet portraits, in general, have a moderate to high level of detail – a facet which I have worked hard to improve through advanced surfaces and techniques. Their greater natural strength is in the luminescent tones attainable with the medium. In the hands of a skilled pastel artist, soft-focus effects can be created that would be difficult or impossible to produce with other media. For instance, given the proper surface, it is possible for an artist to convincingly portray light filtering through the fur of a pet – or sunlight filtering through trees in the background of a pet portrait with a misty effect.
There is little in life more sentimental than our attachment to our pets. Pastel might be called a sentimental medium, and as such it is well suited to depict that special relationship in a permanent visual memory.
I generally do pastel pet portraits on either Wallis sanded paper or Pastelmat. The sanded paper is best for larger pieces, I have found. Its texture helps to hold the pastel strokes without creating undesirable gaps and skips in the lines. It is also conducive to layering, which is important when adding fine details such as the white whiskers on a cat, and to blending. Despite the rough sound of "sanded paper," the finished product appears smooth and velvety.
Pastelmat is a smoother velour-type surface that I find more suitable for smaller pet portraits. Finer lines can be drawn on this surface, which enables a greater level of detail at small sizes.