Pet Portraits
in Pencil
My most affordable pet portraits are done in pencil – both graphite and charcoal where appropriate. In addition to the advantage of low cost, the intensity of black and white helps to bring out the pet's personality. Color is beautiful, but black and white shows things that color can't.
Pencil Pet Portrait Gallery
Pencil Pet Portrait Pricing
| Size | Price | Add'l Pet / Bkgnd | Shipping |
| --- | --- | --- | --- |
| 5 1/2″ x 7″ | $59.00 | $34.00 | Free |
| 8″ x 10″ | $119.00 | $49.00 | Free |
| 12″ x 16″ Head shot | $149.00 | $74.00 | Free |
| 12″ x 16″ Full body | $164.00 | $79.00 | Free |
| 16″ x 20″ Head shot | $199.00 | $99.00 | Free |
| 16″ x 20″ Full body | $244.00 | $119.00 | Free |
Send inquiry
Please use this form to send a no-obligation inquiry. I will typically follow up with you the same business day. You may also email me directly at
tim@tamzart.com
, or call
417-298-6584.
Graphite pet portraits
Charcoal pet portraits
Graphite pet portraits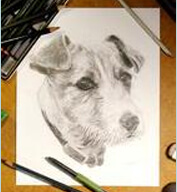 Graphite is an excellent choice for certain kinds of pet portraits, particularly small sizes and portraits of light-colored pets. A graphite pencil can be sharpened to a very fine point, which enables the artist to depict a tremendous level of detail. This is particularly important when drawing the pet's face and eyes. Pets with white or light-colored fur also look good in graphite, as the medium lends itself to the special techniques required.
For larger graphite pet portraits (more than 8″ x 10″) I use something called vellum-surface bristol board. Many artists favor a smooth board, but I find that a little texture helps bring out the dark tones, add expression to the lines, and overall give the picture a feeling of more depth.
A smooth surface works better on small and miniature portraits. When drawing miniature portraits, I make use of a delightful space-age material called drafting film. It's not paper, but a coated polyester surface which is virtually impervious to organic decay. It allows the artist to achieve a breathtaking level of detail in a small area, and to create polished gradient effects so smooth that they almost look airbrushed. "Coconut" the cat, a mere two-and-a-half by three-and-a-half inches of detail, is an excellent example of why graphite and drafting film make such a powerful combination for pet portraits.
Charcoal pet portraits